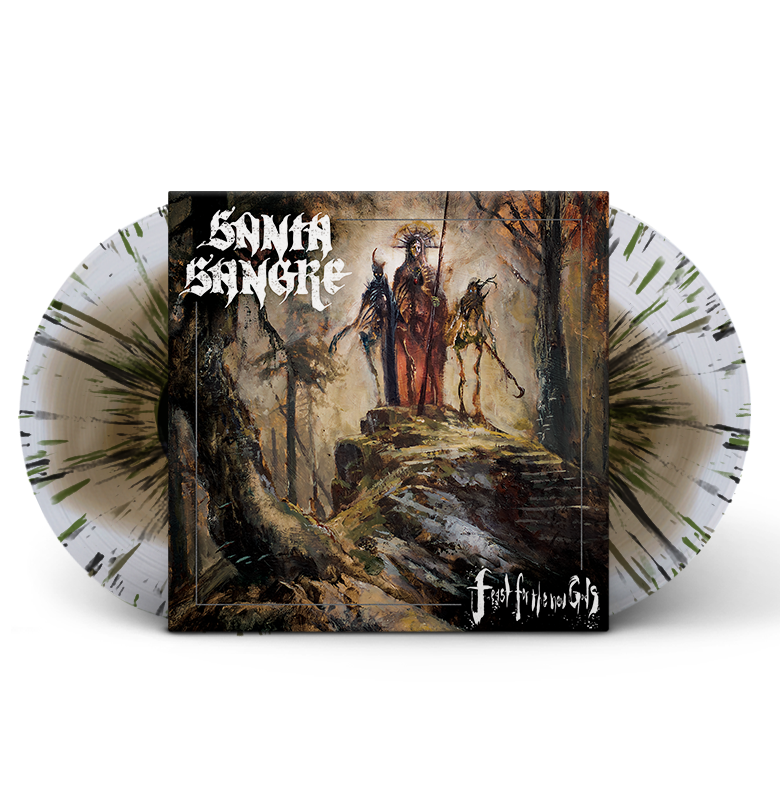 Santa Sangre - Feast For The New Gods
Format:
2xLP - Olive/Black Split & Oxblood/Black Split
Available for all EU/UK customers HERE
Limited cassette pressing available HERE 
Available now for the first time ever on vinyl and to celebrate 20 years since it's original release, 'Feast For The New Gods' from Syracuse NY's Santa Sangre. Originally released in 2001 on Eulogy Records, we have expanded the record over two LP's to include the bands original demo, released by Surprise Attack Records, as well as the previously unreleased recording session from Watchmen Studios. All material has been remastered by Brad Boatright of Audiosiege and repackaged in a deluxe tip-on style gatefold LP jacket, featuring the artwork of Adam Burke.
The group summoned a conjuration of pit-splitting hardcore and apocalyptic poetic imagery long before this unholy union defined the "New Wave of American Heavy Metal," as the press later called it. Santa Sangre—Kevin Passerell [vocals], Jonathan Dennison [guitar], Tom "Dice" Cavanaugh [guitar], Jonathan Buske [bass], and Corey Koniz [drums]—brought a different kind of darkness to the fold on their one and only full length, Feast For The New Gods. 
"This was the first record where we were able to successfully shape the vibe and feel of the music into something dark and moody," recalls Dennison.  "Looking back, I think Santa Sangre left something behind that is distinctive and timeless for Hardcore/Metal."  
For as much as that "take" drew on the music itself, it also stemmed from Dennison's own fascination with literature and film. The band moniker even nodded to cult director Alejandro Jodorowsky's 1989 horror epic of the same name. At the same time, they absorbed the inspirations from real world horror and nightmare to fictional literature that nightmares are made of.
In the wake of Santa Sangre's end, members logged time and recorded in the likes of Terror, Unholy, The Promise, 
Freya
, and more. 
Pressing Info
200 - Metallic Gold in Clear with Splatter
400 - Olive/Black Split & Oxblood/Black Split
Tracklisting
Disc 1
1- Bury Your Dreams
2- An Afterlife of Death
3- Dead King
4- Killer Smile
5- Doom Awakening
6- Section 203K20
7- Give Up The Ghost
8- Shock Infection
9- The Sleep
10- Feast For The New Gods
11- Assassination by Remote Control
Disc 2
1- Feast For The New Gods (Unreleased Demo)
2- Doom's Awakening (Unreleased Demo)
3- The Sleep (Unreleased Demo)
4- An Afterlife of Death (Unreleased Demo)
5- When The Devil Spreads His Wings (Unreleased Demo)
6- Death To Us All (Unreleased Demo)
7- Assassination by Remote Control (SA Mob Demo)
8- Section 203k20 (SA Mob Demo)
9- Lucifer's Design (SA Mob Demo)
10- Feast For The New Gods (2000 Demo)