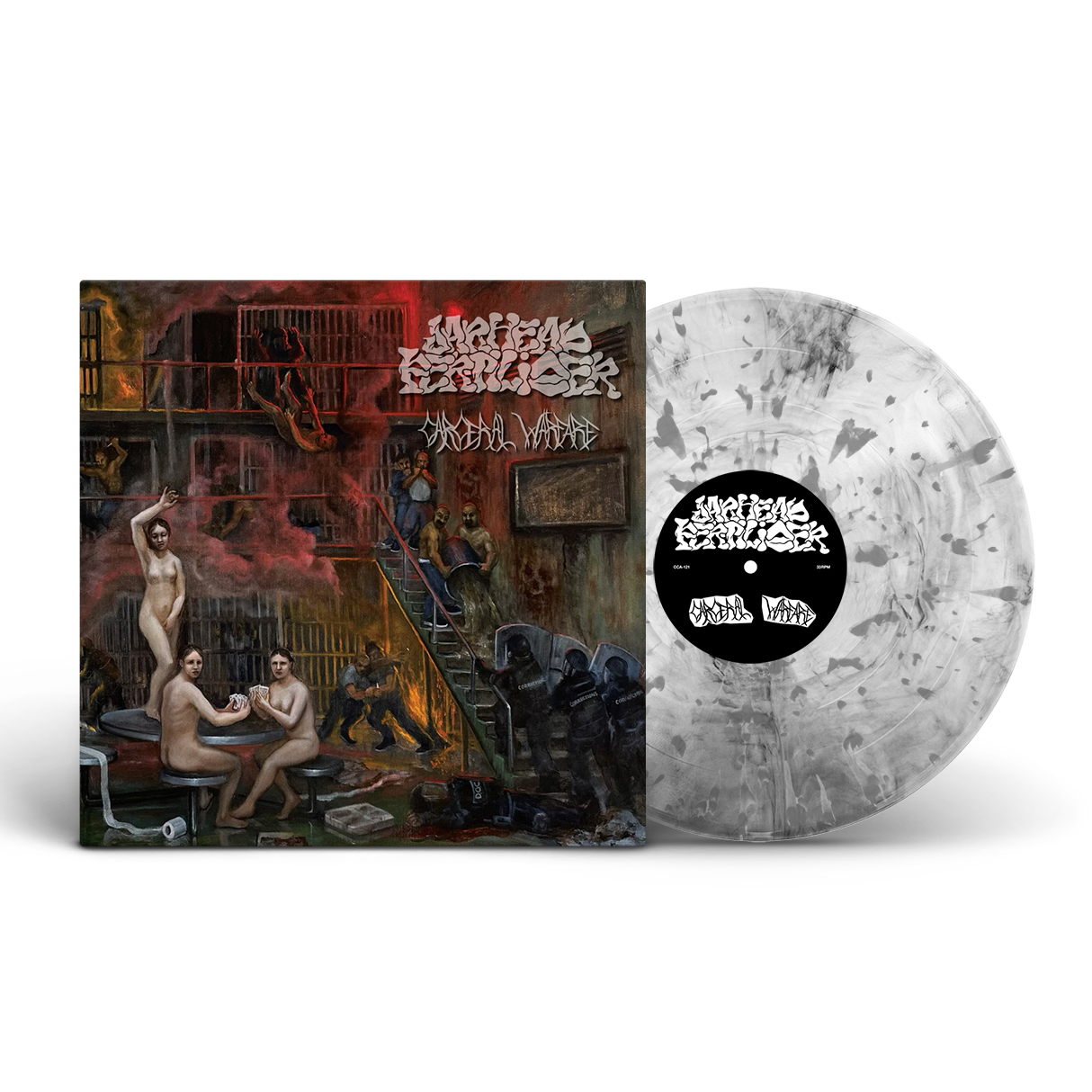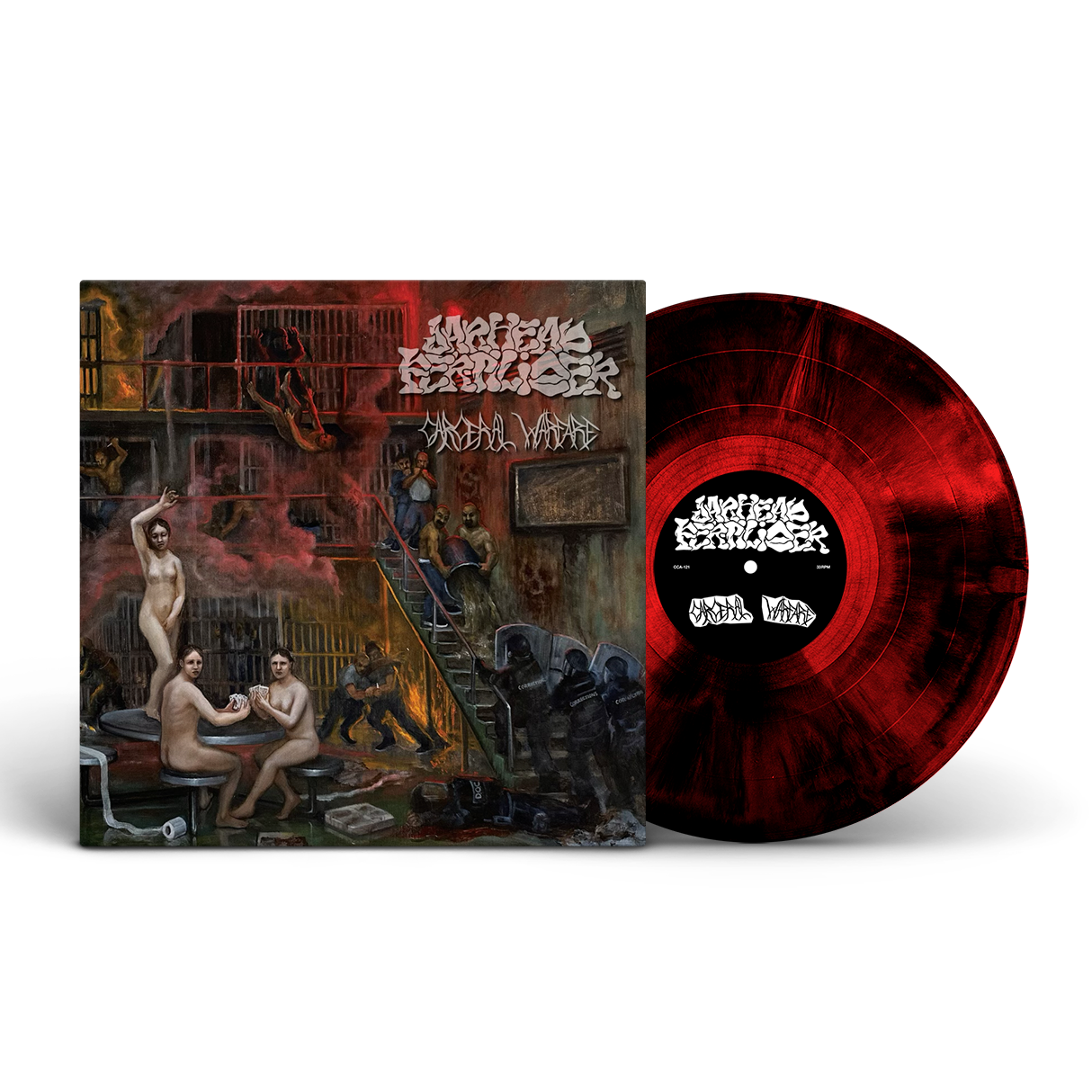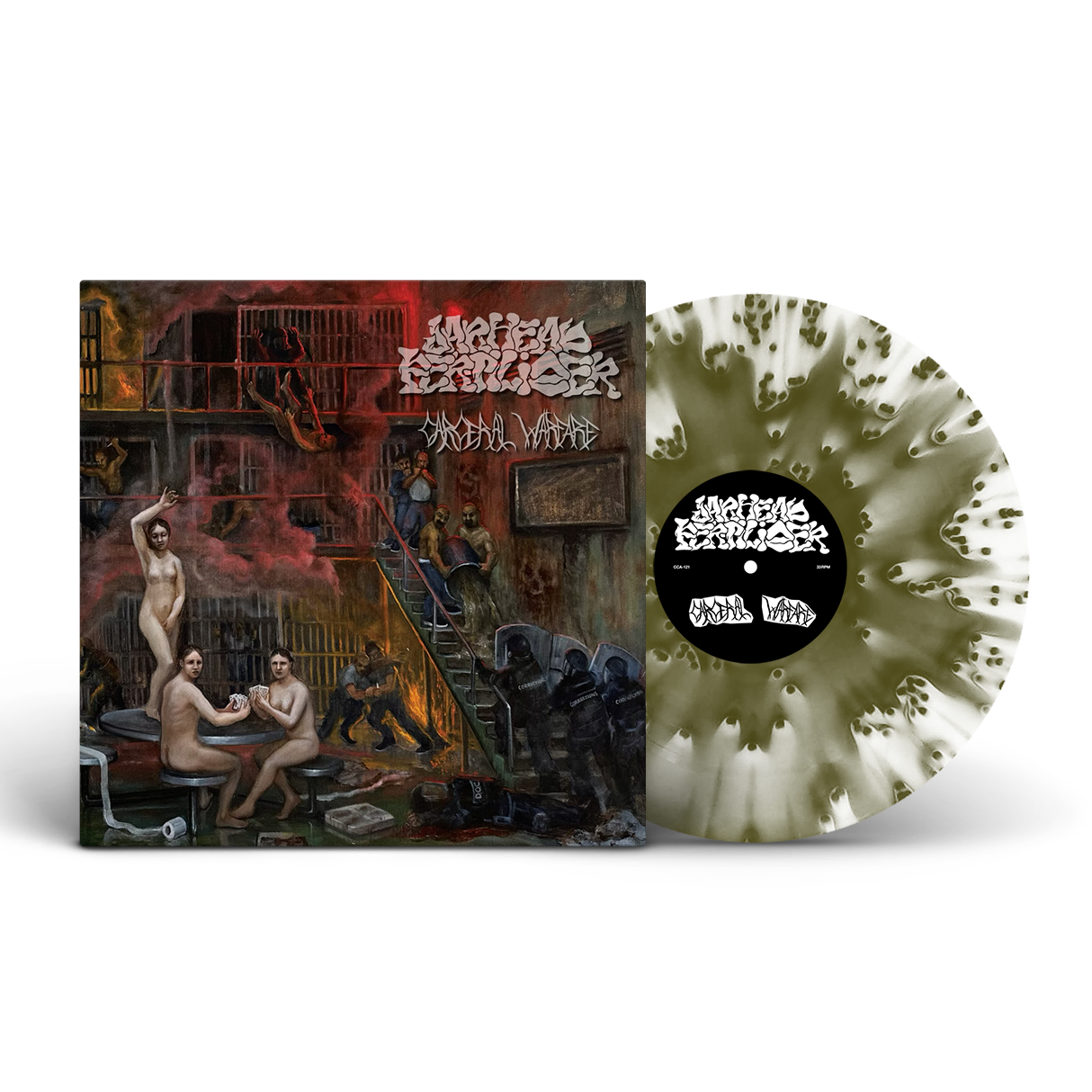 Jarhead Fertilizer - Carceral Warfare
Format:
LP - Clear with Black Smoke and Silver Splatter
Shuddering industrial groans and grimy hip-hop beat-craft surround a maelstrom of cathartic screams under the cover of a double bass barrage and machine gun sharp riffing steeped in death metal and power-violence. It's cataclysmic, chaotic, and disarmingly catchy. Now, the Ocean City, Maryland quartet—Dave Bland [drums, vocals], Sam DiGristine [guitar, vocals], Brandon Brown [guitar, vocals], and Vinny Vitilio [bass]—tell an arresting story at the heart of their 2023 full-length offering Carceral Warfare [Closed Casket Activities].
It depicts an eternal struggle set in the walls of a celestial prison based on the experiences of Dave's late father.
"Growing up, I watched a lot of crazy shit," Dave states. "My dad was an ex-convict, and that's where the prison idea came from. I was surrounded by that lifestyle. Many of the lyrics compare earth to a prison, and they explore all the atrocities of man. My relationship with my father definitely influenced the band, and this album is almost like me getting to tell his story since he passed away two years ago."
The band quietly prepared to deliver such an incendiary and inflammatory body of work. After a series of fan favorite EPs, 2021's Product of My Environment affirmed Jarhead Fertilizer as an undeniable underground favorite. The album piled up 1 million total streams (impressive for such a heavy outing). Metal Injection rated it "8-out-of-10" and raved, "Product of My Environment is the kick in the teeth the extreme metal underground needs in 2021." 
Throughout 2023, they recorded Carceral Warfare at Developing Nations with producer Kevin Bernstein behind the board. This time around, the musicians nodded to influences as diverse as extreme metal a la Mortal Decay, Lucifer's Hammer, and Demilich to jazz drummers such as Billy Cobham and Tony Williams, Memphis hip-hop legends Three Six Mafia, as well as acts such as Techno Animal and The Prodigy.
Vinyl comes packaged in a matte finish lp jacket complete with UV spot varnish and a 12 page lyric booklet.

Pressing Info
200 - Olive, Mustard and Oxblood Mix with Splatter
300 - Clear with Black Smoke and Silver Splatter
500 - Red and Black Galaxy
500 - Cloudy Swamp Green
Track Listing
1- Blood of the Lamb
2- Street Successor
3- Cell Warrior
4- Torture Cage
5- Parasitic Pathology
6- Wrath of Judas
7- Mark of the Beast
8- Hysteria 
9- Carceral Warfare