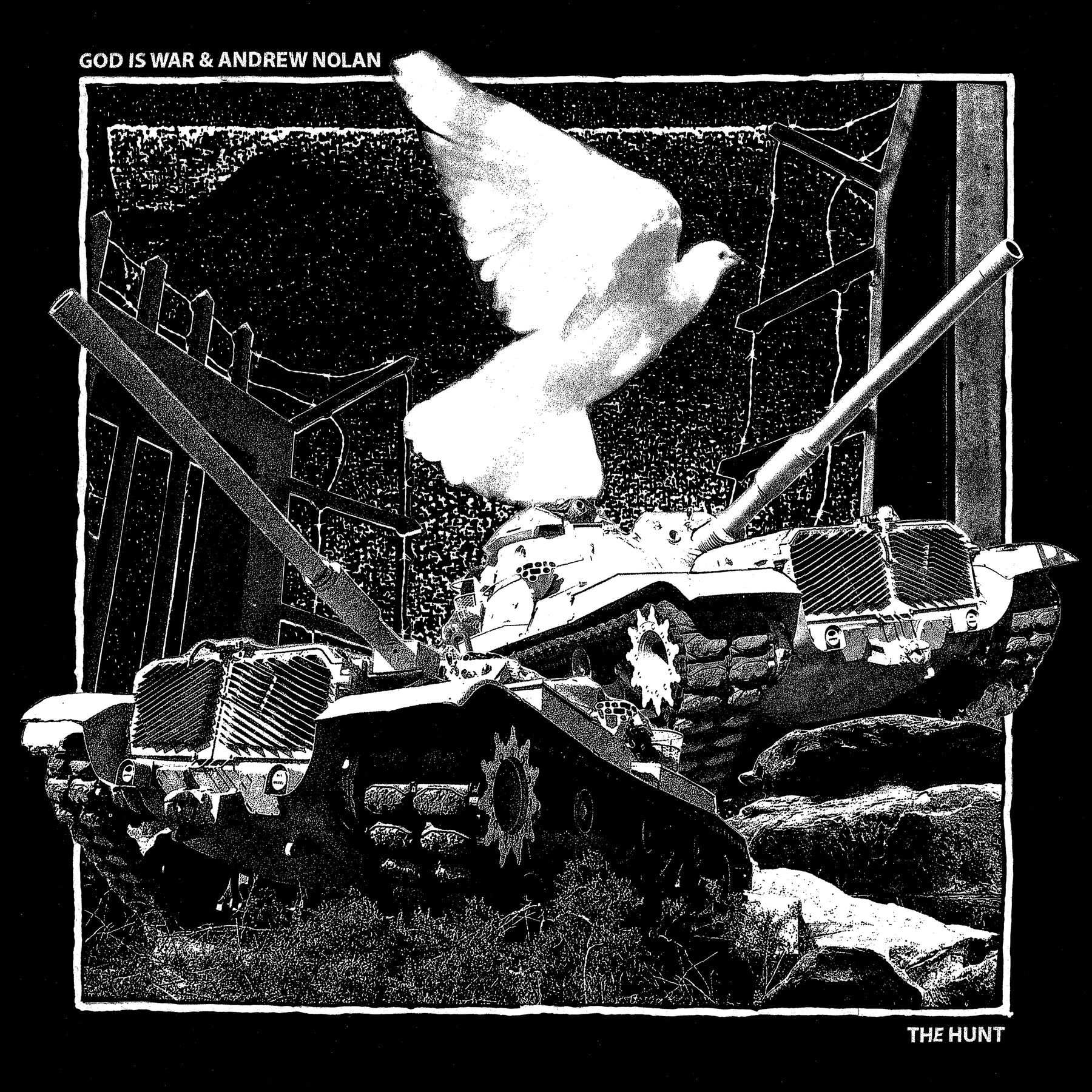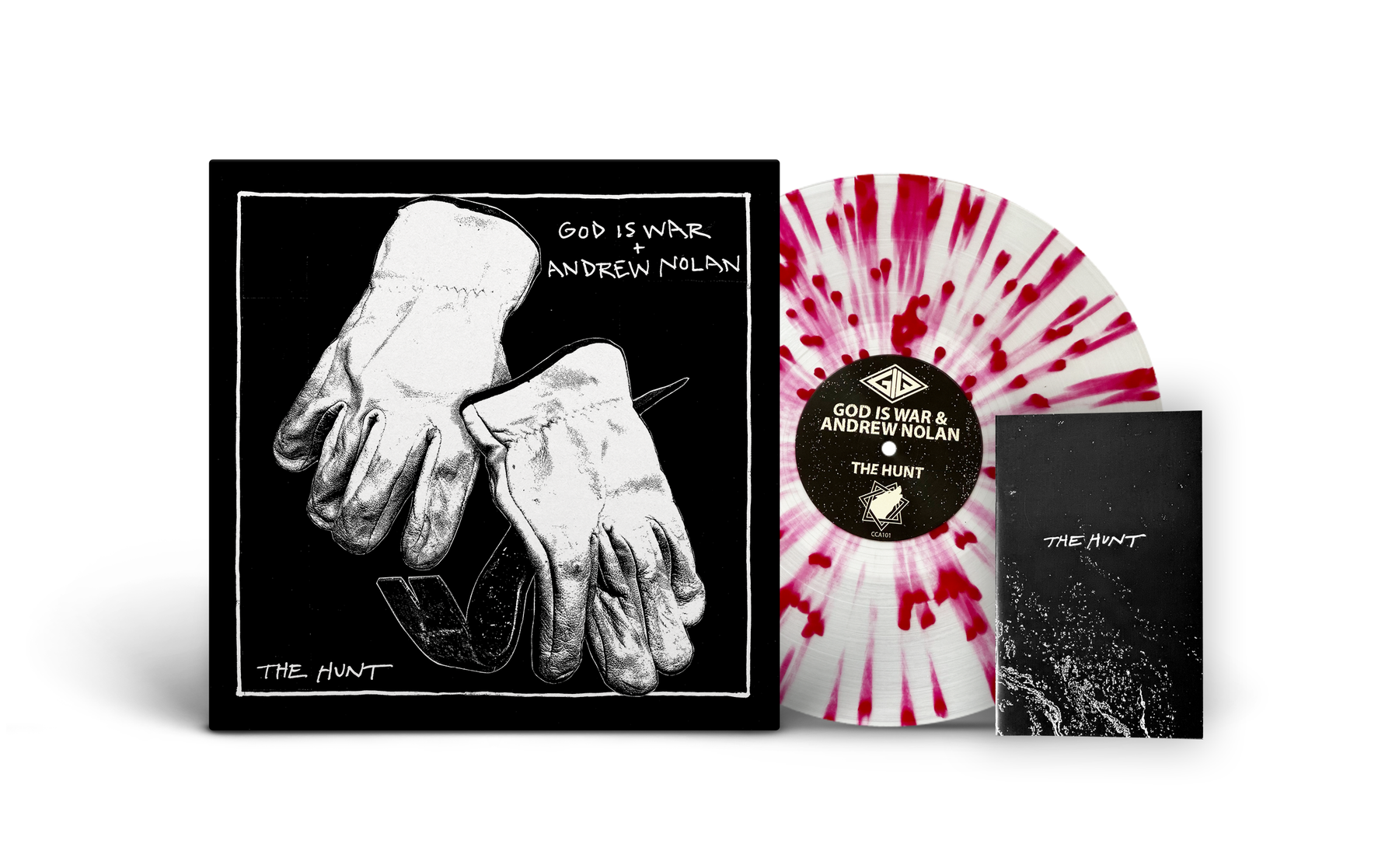 God Is War & Andrew Nolan - The Hunt
Format:
LP - Clear with Red Splatter (Deluxe Edition)
Please note - in addition to the original jacket and obi strip, all clear with red splatter copies also have a screenprinted alternative cover and a 32 page zine designed by Give Up.
God Is War the Los Angeles-based artist and producer a.k.a. Mack Chami joins forces with Toronto-based Andrew Nolan (Intensive Care, Column of Heaven, The Endless Blockade) for The Hunt [Closed Casket Activities], and stretch boundaries into oblivion without compromise.
Friends and occasional collaborators for over a decade, throughout 2022, they assembled The Hunt, pooling their respective talents into one vision. "Andrew brings order to my chaos," notes Mack. "I'll do my glitchy stuff, and he'll pick out the parts he likes the most and makes them more cohesive. I feel like we're pushing forward by using more unconventional electronic music approaches to create a dark and heavy electronic mashup of dubstep, IDM, and hip-hop," 

Continuing this line of thought Andrew observes "the origins of industrial, power electronics, techno, dub, and hip hop all have similar stories when it comes to technology; people repurposing cheap consumer electronics to create new forms and expressions and building genres out of these experiments. Why not apply hip hop sampling techniques to feedback? Why not process drums like you're making a noise record?"

The result of this cross-pollination is a harrowing détournement of contemporary electronic music's utopianism, presenting the listener with a post-apocalyptic dubstep, a vision of a block party after the oil runs out.
The title track "The Hunt" illustrates the power of their alchemy. The production booms with a cavernous rumble, leaving space for New Villain of No Face Krew to stalk the rhythm with incisive rhymes on the record's sole vocal passage. "It's the hardest track on the album," Mack states. "Andrew, New Villain, and I are gentlemen who aren't just sitting around hoping that something takes off. We're all very active in music. As we continue to get our footing more, it's like our hunts get meaner and meaner. You don't just hunt once in a lifetime; you hunt for a lifetime."
Speaking of hunting, the duo bare their teeth on the industrialized soundscape architecture of "I Paint Houses." Menace seeps through the cracks between the bludgeoning beat-craft as the title nods to a phrase from Martin Scorsese's epic The Irishman."The whole idea of painting houses is you shoot someone and blood sprays on the wall," he reveals. "I make music that embodies those darker vibes."

In the end, The Hunt unapologetically pulls audiences into the unknown. "I'm hoping this can inspire other folks to look at a new way of making beats." Mack concludes.

Vinyl Pressing
200 - Clear with Red Splatter  
300 - Black & White Mix with Silver Splatter
Track Listing
1- I Paint Houses
2- The Hunt (Feat. New Villain)
3- No Dog In You
4- Pressin' On You
5- Devil's Smile (See You When I See You)
6- Now You See It, Now You Don't... But You Know It's There So Come With Me
7- Traversing Shadows
8- Undermining Your Life
9- Smoky Backroom Card Game Heist 
10- Think As You Like But Act As Others