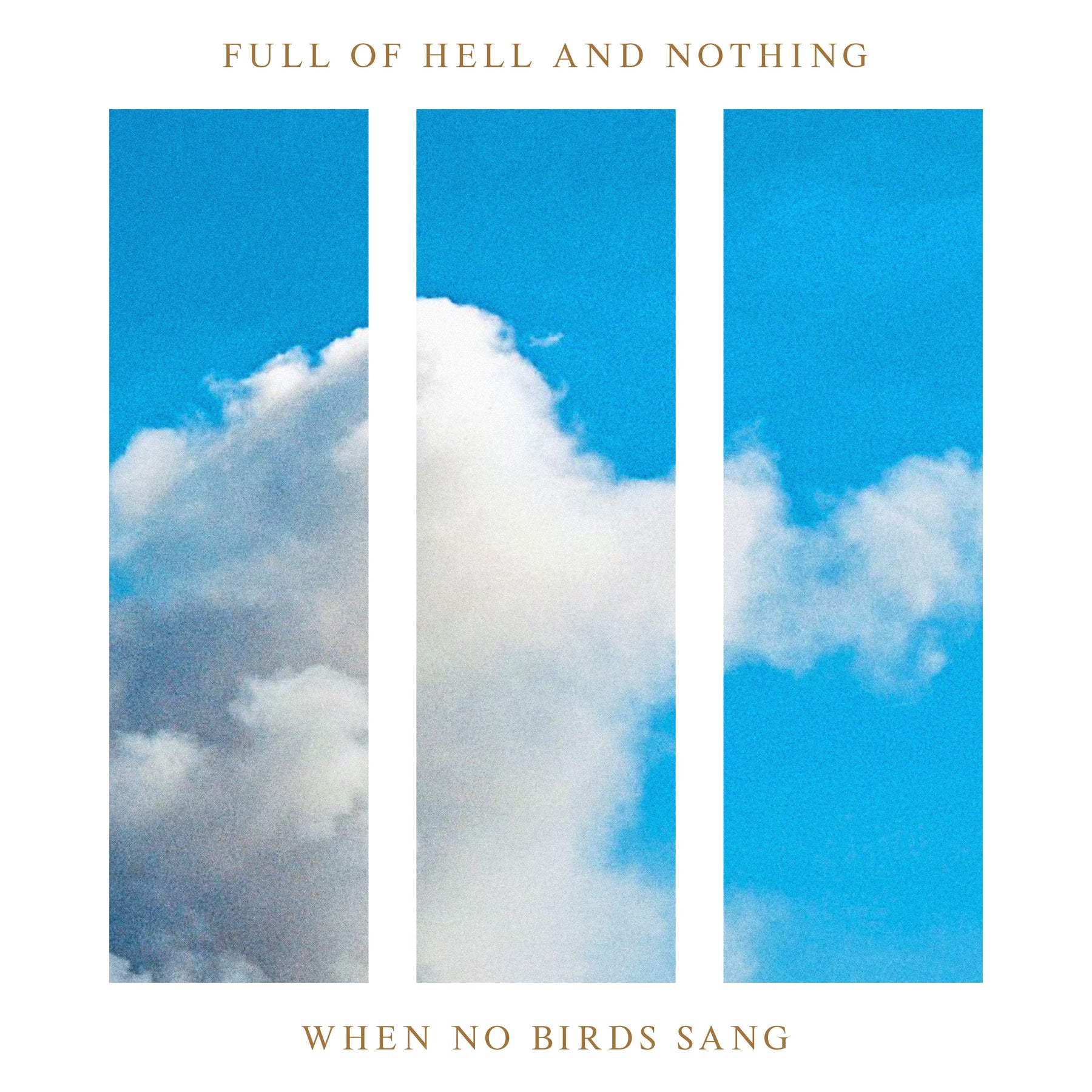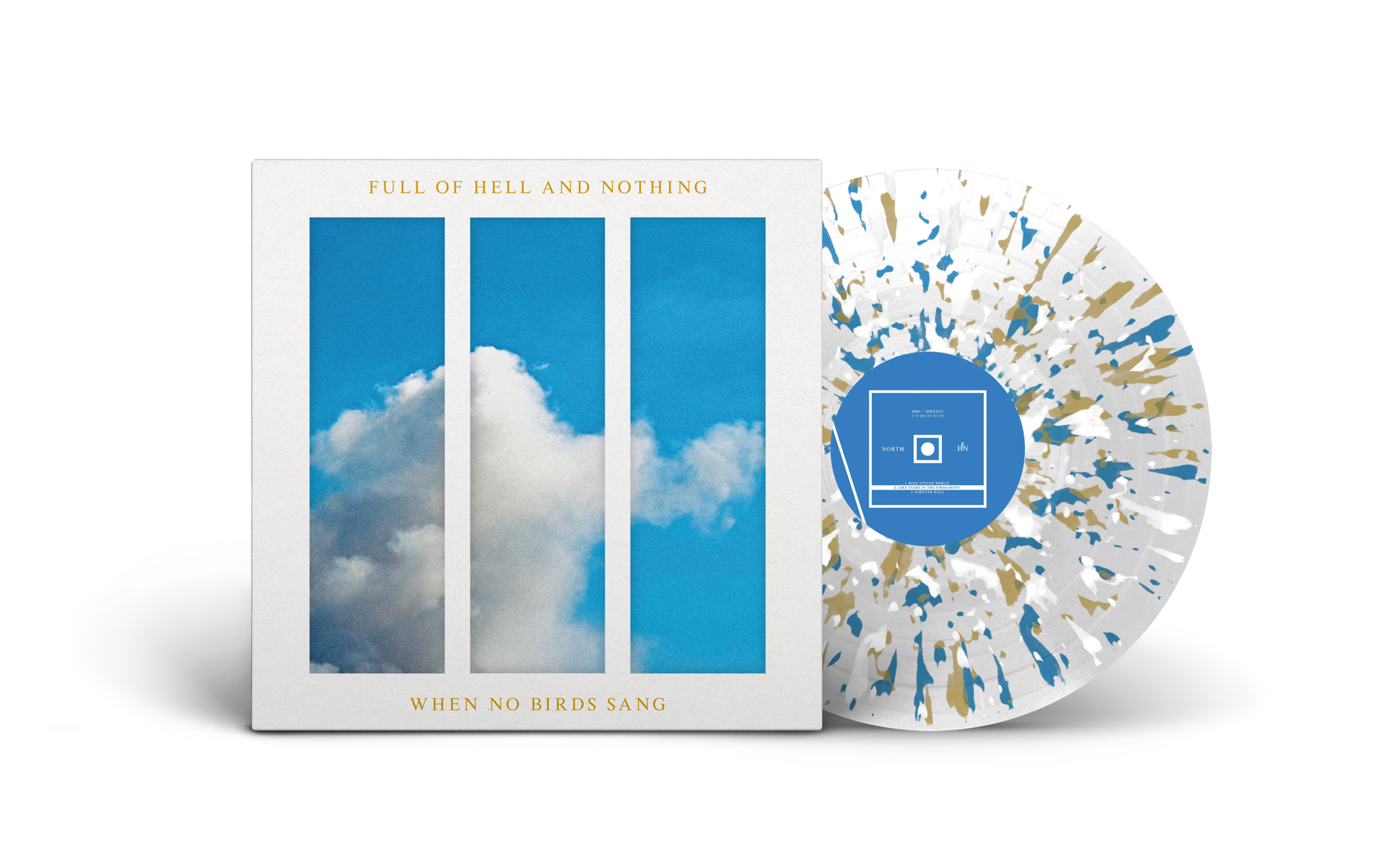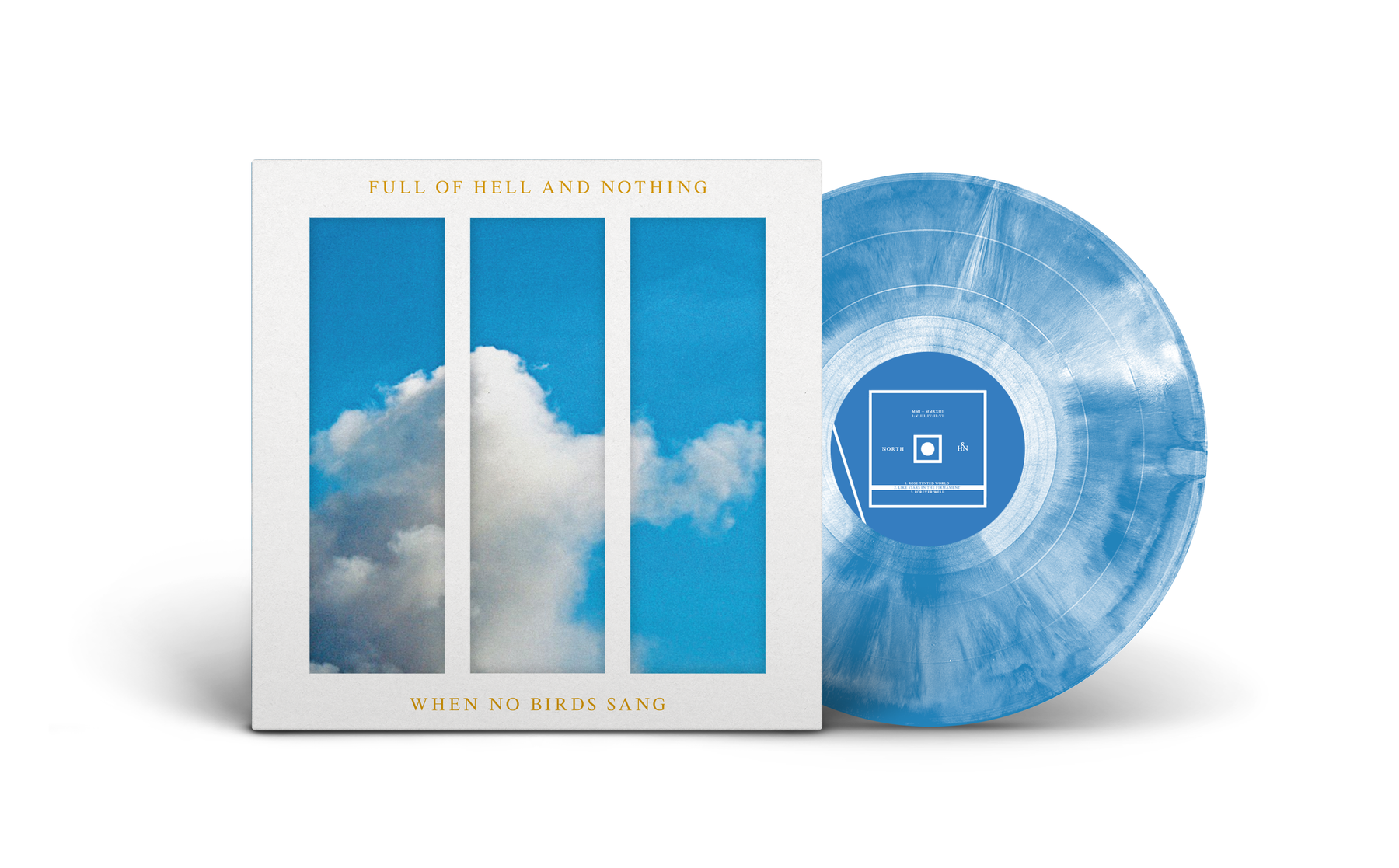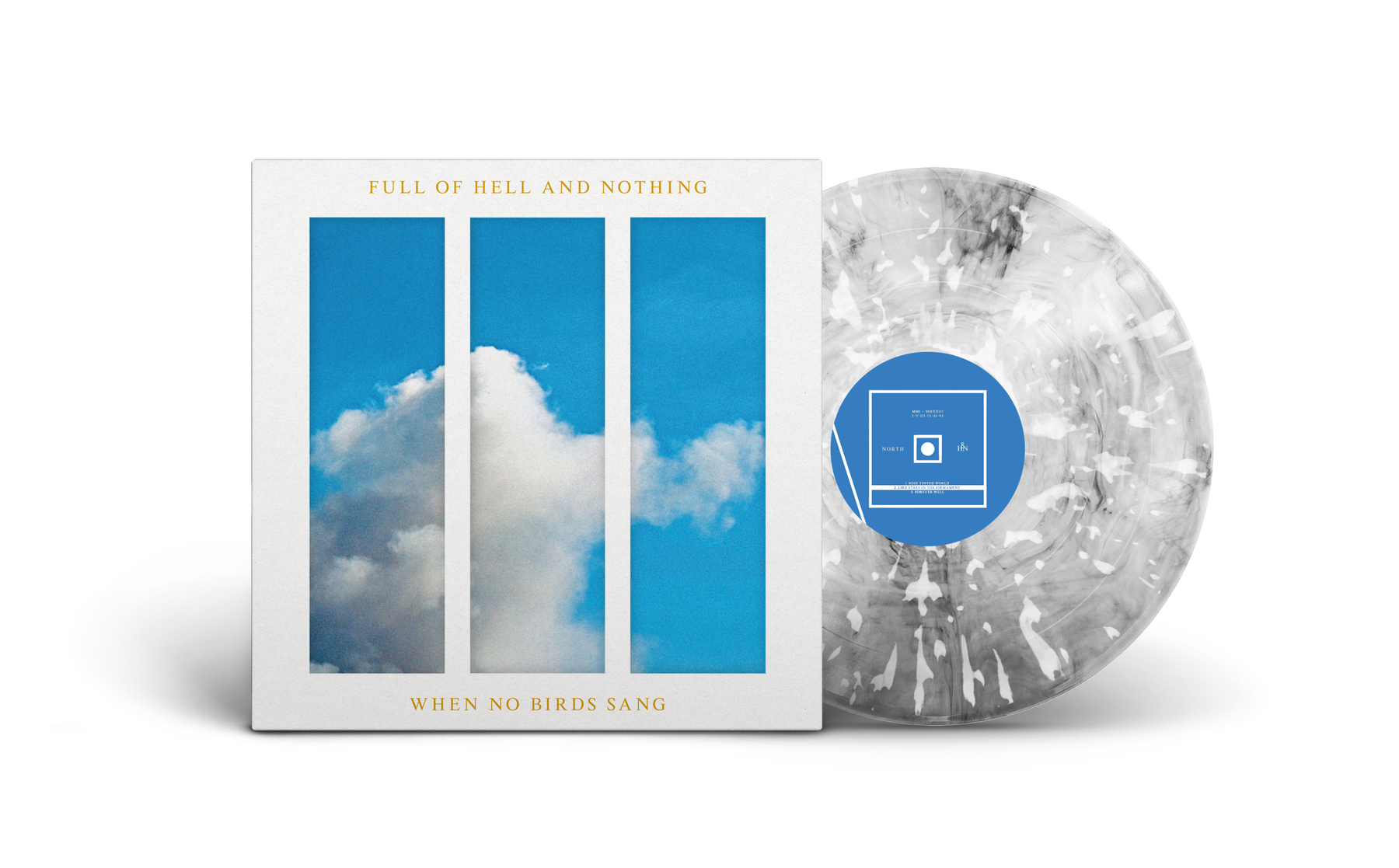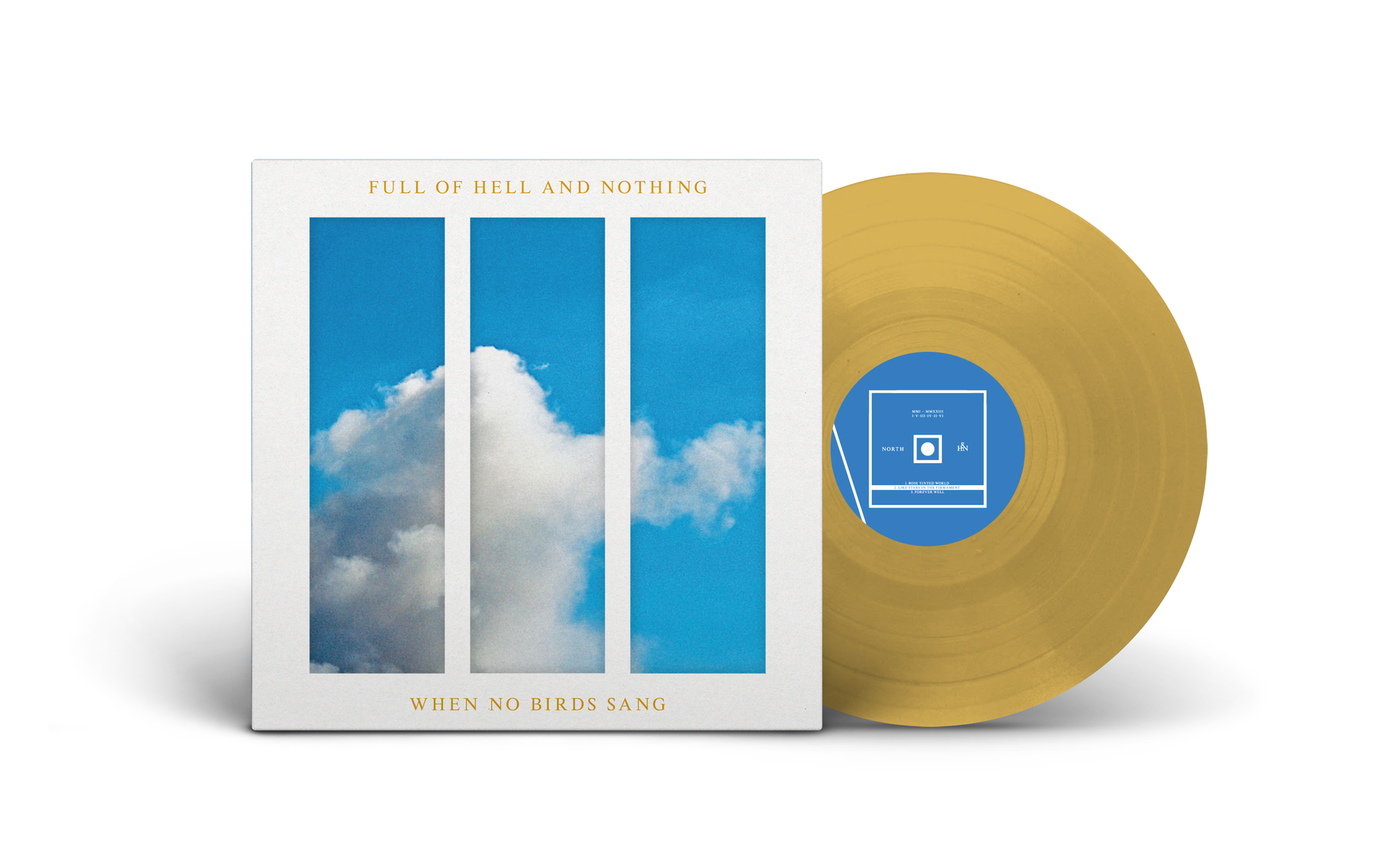 Full of Hell and Nothing - When No Birds Sang
Format:
LP - Clear with White Gold and Royal Splatter
Pressing Info
First Pressing
100 - Red White and Blue (Friends Press)
300 - White and Blue Galaxy
300 - Bone and Gold Mix (Rough Trade Exclusive)
300 - Silver and Red Split (Deathwish Exclusive)
500 - Red, Orange and Black Burst
500 - Bone (EU/UK Indie Retail Exclusive)
500 - Royal Blue (US Indie Retail Exclusive)
750 - Black Smoke with White Splatter 
1000 - Metallic Gold 
 Second Pressing
1000 - Clear with White Gold and Royal Splatter 
Like wolves of the same pack separated at birth, outliers instinctually recognize one another. After twisting and turning through the underground on parallel trajectories, the separate paths of Full of Hell and Nothing collide on the collaborative LP, When No Birds Sang (out December 1st on Closed Casket Activities).
At this meeting point, Full of Hell—Dylan Walker [vocals], Spencer Hazard [guitar], Dave Bland [drums], and Sam DiGristine [bass]—and Nothing's Domenic "Nicky" Palermo [vocals, guitar] and Doyle Martin [vocals, guitar] burst out of genre confines together with a sound that's equally dangerous and dynamic.
"Both Full of Hell and Nothing deal with the same genre-phobia," laughs Nicky. "We've been called any style you can think of, but we're both simply intent on making soul crushers." "We're beyond limiting ourselves to a genre," agrees Dylan. "There aren't any rules, but there's clearly an identity. No matter what Nothing does, I can tell it's them. We're meeting in the middle where it's lush and beautiful, but also sad and ugly if you look closely at it. Out of mutual respect, we just decided to go for it."
Nothing and Full of Hell initially crossed paths in the twenty-tens, sharing the bills of shows and festivals intermittently. Dylan and Nicky kept in touch over the years, and the collaboration naturally followed. Together, they built a new "wall of sound" in the middle out of Full of Hell's abstract and harsh ambience and Nothing's searing shoegaze tendencies—conjuring extreme peaks and valleys inspired by the likes of My Bloody Valentine and latter day Swans.
"We've never done anything like this," Nicky goes on. "The contrast is huge as we're putting two extremes together and making them work. We're just bridging the gap."
Ambitious in scope and concept, When No Birds Sang not only showcases the bands' creative highs, but also some of humanity's woeful lows— and they introduce this body of work with "Spend The Grace." An unnerving melody gives way to cathartic growls atop a sparse beat, and guitars buzz beneath gritty vocals only to spiral out into trudging distorted crescendo. "We put the song together as we went through this experience," recalls Nicky. "The whole record built itself as it moved."
"Spend The Grace" arrives today alongside a high-concept, allegorical cinematic feature. Directed by Mike Martinez and Tyler Way, the video is opaque in nature but tells a devastating story. The directors comment, "In our endless quest to navigate the profound intricacies of reality, we often encounter a significant challenge: the limitations of language. However in those decisive moments, when individuals are confronted with the choice of determining their own paths versus succumbing to external influences, a remarkable opportunity can unfold. Within a fleeting instant, liberation can arise and a being can exist in one world while inhaling the essence of another."
Full Of Hell and Nothing notably wrote When No Birds Sang face-to-face in Ocean City, MD and collaborated in-person as much as possible. Eventually, they entered the studio with GRAMMY® Award-winning producer Will Putney. The atmosphere contributed to the energy of the record itself.
"I was super happy to be in a room and not just throwing shit back and forth online," Nicky states. "I have such a hard time when I'm not staring down the barrel of a gun. Being in a room with these guys brought everything into reality." "It's way more productive," Dylan continues. "This was the first time any of us had worked with Will. His resume speaks for itself, and he definitely added a great perspective." "It's an emotional record," adds Dylan. "Once we decided on the concept, we followed a similar approach. We're bringing you to this edge of an empty void."
Yet it feels good because it's undeniably real.
"When you hear it, I hope you feel devastated emotionally," Dylan leaves off. "If we're doing our job, it will freak you the f*ck out in the best way, because you're staring at the precipice of oblivion with us."
"'Devastation' is a good reaction for me," Nicky concurs. "From top-to-bottom, this record is highly comprehensive and super detailed. For me, the process itself was humbling. Every once in a while— with doing music for the better part of my life —experiences like this sometimes erase the imposter syndrome I feel playing music, and for a moment I forget how big of a loser I am," he grins.
Track Listing:
01. Rose Tinted World
02. Like Stars in the Firmament
03. Forever Well
04. Wild Blue
05. When No Birds Sang
06. Spend The Grace