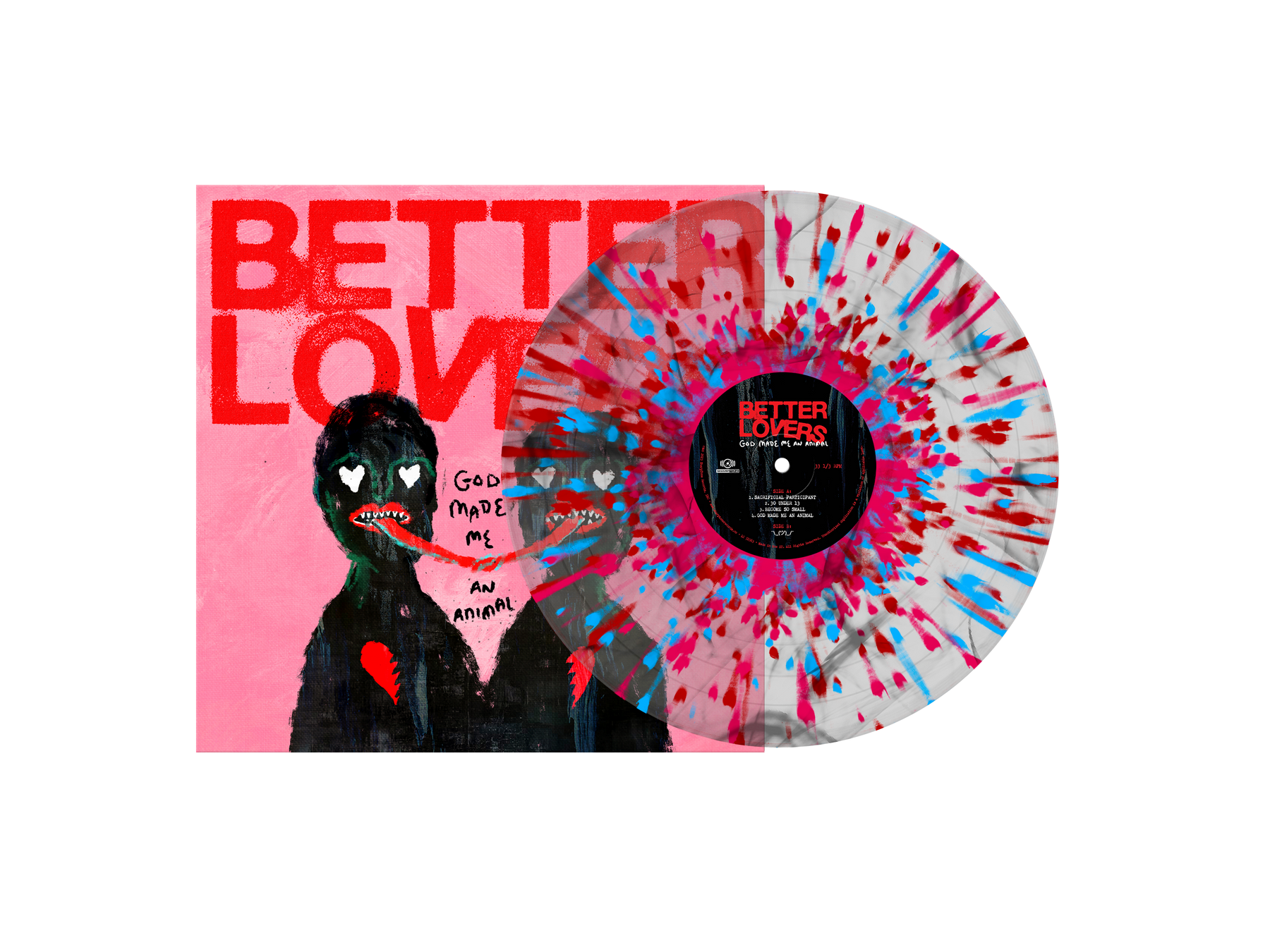 Better Lovers - God Made Me An Animal
Format:
LP - Clear & Gold with Red & Black Splatter
***THIS ITEM IS A PREORDER SHIPPING IN OCTOBER 2023. ANY ADDITIONAL ITEMS PURCHASED WILL NOT SHIP UNTIL YOUR FULL ORDER IS COMPLETE. 
CCA exclusive vinyl color limited to 500 copies on Red in Blue.
Second Press vinyl limited to 500 copies on Clear and Gold with Red and Black Splatter.
A group of tried-and-true musicians got together and found the sort of camaraderie and kinship you typically only find once in a lifetime. They didn't overthink it. They didn't waste a second. They simply left their blood, sweat, and tears on tape—like they've always done. For as much as Better Lovers represents the union of former Every Time I Die members Jordan Buckley [guitar], Steve Micciche [bass], and Clayton "Goose" Holyoak [drums] with The Dillinger Escape Plan and Killer Be Killed frontman Greg Puciato [vocals], and musician (Fit For An Autopsy/END) and GRAMMY® Award-winning producer, Will Putney [guitar], it really cements the bond of five friends around a shared vision. That vision is as uncompromising, unapologetic, and undeniable as anything they've individually done, yet it's refined by experience and a commitment to a future together. They're in it for the long haul…
"To me, this band is refreshing," exclaims Jordan. "Looking back, I'm so happy everything got me to where I am. The pandemic and the last few years made me hungrier and more grateful. This isn't a hobby. This isn't temporary. This is the next evolution for each of us. Greg and Will rejuvenated me and made me even more confident. Now, everybody needs to know we're a wild animal that just broke out of the zoo—there's no trying to put it back in the cage."
"Better Lovers definitely feels like its own thing," states Greg. "I'm in so many lanes right now, so it was important that one lane didn't step on another. However, nothing I'm doing is this vicious. This is full-on scathing. It's been really fun. I forgot how much I liked that."
As the story goes, Jordan ended up back in Buffalo, NY, jamming in a basement rehearsal spot with Steve and Goose during the winter of 2022. After working with Will on the last two Every Time I Die records, they shared a handful of early demos with him to produce. As the year progressed, Jordan caught Greg on the road with Jerry Cantrell in Las Vegas, mentioning the new music. Once ideas solidified, he shared them with the vocalist who replied at 3 am one night in December.
"The text said, 'Let's give these motherfuckers what they want'," chuckles Jordan. "I went to bed smiling and laughing. There is no one like Greg on stage, off stage, or over text. Once I told Will, he was like, 'Can I play?' We said, 'Of course!' That's how it was born."
"Once I pick up the scent, I'll go for the kill," smiles Greg. "We've all hung out, gotten to know each other, and it's all fire now. Everyone has already been through shit. You know yourself better. Your ego isn't as big as it used to be. You can share your opinions. It's a cool dynamic."
Fittingly, they introduce this era with the single "30 Under 13." A seasick guitar groove bleeds into an incisive riff punctuated by Greg's vitriolic and venomous screams, "Hold onto me, try to let go of me, let go of what you'll never be." This barrage unpredictably subsides on a haunting clean vocal, only to ramp back up into a pit-splitting thrash crescendo and rapid-fire solo played at warp speed.
"We always try to up our game," notes Jordan. "This is the next step for all of us. There's just constant forward motion, and we don't want to compromise that. We want to keep going. We're doing a lot of shit we haven't done before in Better Lovers. I'm not going to spoil it for you, but get ready."
"For some reason, this song got me," recalls Greg. "Once that happens, you have the toe of the dinosaur skeleton in the dirt. You start brushing it away, and soon you have a fucking T-Rex."
The name might give you a hint of what's coming—or it might not.
So, what does the future hold for Better Lovers?
Well, it's entirely in their control. Expect a lot of touring. Expect more music. Expect these five guys to leave a trail of destruction in their wake—really would you want anything less?
"We feel like we're going to explode if we sit around any longer," Jordan leaves off. "This is my life's work. I learned all of my lessons, passed all of the tests, and took all of the right turns and the wrong turns. It turns out what I thought were wrong turns got me here, and that's all that matters. I have no regrets. I know this is what I'm supposed to be doing."
"I just want you to view this on its own merits," Greg concludes. "I hope it reaches some new people. For me, the enjoyment is making the music and putting it out. The second it's released, I don't look back. You drop the bomb and keep flying the plane. You don't circle back to see how much destruction you cause. You keep moving, which is what we're going to do."
Track Listing
1 - Sacrificial Participant
2 - 30 under 13
3 - Become So Small
4 - God Made Me An Animal